printformer - Web2Publish
that makes your wishes come true.
Are you wondering how we can support a wide variety of customers, regardless of the size of your company, with their Web2Publish projects? The solution is called: printformer. With our cloud software we have created a standard that is ready to use in a few minutes and can be integrated into any existing system. You benefit from automatic updates that continuously expand your Web2Publish offer and catapult your business into another galaxy. Some of our many features you can already find here.
premium editor
High end editor technology for any products. No matter whether it is location, format, catalogue, advertising material or simple business stationery, with our editor your customers will design their products intuitively and without errors.
Mass customization that is fun - guaranteed!
Element based rights assignment

Extensive text & image editing

Support of any bar and QR codes
media asset
management
Fully integrated media management to provide your users with predefined assets. 
You operate your own MAM system? No problem - our MAM Connector allows seamless integration into our editor.

comprehensive media management
Adobe Indesign templates
The heart of a Web2Publish system are its templates. We rely on the full power of Adobe Indesign to make template-making as easy as possible for all graphic designers. 
The comfortable template management in the backend and the possibility to combine different templates with each other offers maximum flexibility.
Master, pages & article templates 

Individual settings per template

Zip Upload incl. Fonts & Assets
Colour management
We support all common colour spaces such as CMYK, Pantone or HKS and additionally allow you to define any spot colours. You determine which colours the user may use in his document.  
Definition of individual color profiles

Rule-based assignment to templates

Users can save their own color favorites
Work more efficiently with
variants!
Define any number of color variants for a template without having to create additional templates.
By simply defining rules, you exchange assets, colors or fonts. 
Multiply your designs based on rules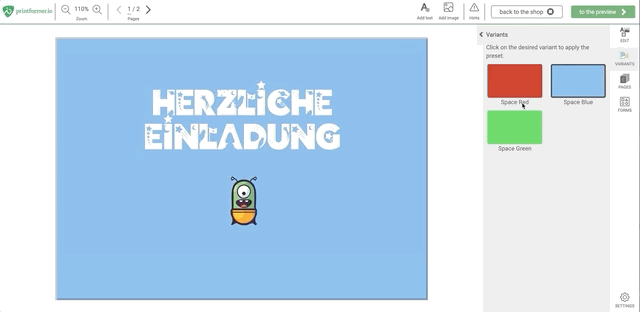 Vectorizer
The right data for every printing process.
Enable your customers to vectorize any assest in real time, reduce colors or recolor paths.
Preflight
As a rule, many print shops not only offer customers the possibility to individualize products via web-to-print editors such as the printformer Editor, but also provide an additional file upload for print files. The disadvantage of this option is that a very large correction process then takes place because the customer delivers the wrong formats or images have the wrong color space. The correction of this faulty print file costs a lot of time and causes an extreme delay in printing.
 To solve this problem and relieve you and your customers of work, printformer integrates the powerful PDF preflight engine Callas PDF Toolbox. This means that immediately after uploading, the uploaded PDF file is subjected to a preflight. A subsequent preview shows the checked and corrected PDF file directly in the browser. Correcting this faulty print file costs a lot of time and causes an extreme delay in printing.
Verify and correct PDF files according to industry standards such as PDF/X-1, PDF/X-3, PDF/X-4, PDF/A and PDF/VT

Convert documents from native file formats to print-ready PDF files (Microsoft Word, PowerPoint, Excel, Publisher, Visio and Project, OpenOffice, PostScript,EPS, PNG, JPG and TIFF images)

Converts multicolor 4c black to pure black to ensure consistent printing

Conversion of fonts into contours

Reduction of transparency

Additional insertion of end format or bleed frames matching the printer marks

 Outputting the ink coverage
Powerful features
Workflow
In addition to the user, who individualizes the print product, other players are usually involved in a web-to-print process - be it the franchiser who wants to check the correctness of his franchisees' print products, or the service provider who imports translations. There are many different scenarios that must be covered by a professional web-to-print system. The powerful workflow module of printformer supports you with exactly these challenges.
Define an unlimited number of levels and workflows for your personal web-to-print process in both types. 
API
Different interactions can be called up independently by external systems using different queries. For example, the integration of PRINTFORMER SUITE into a self-developed shop software via the API module can be realized without much effort.
By complying with the REST standard, no additional programming library is required. The necessary method calls can be implemented in any programming language, so PRINTFORMER SUITE can be easily integrated in a Java, C or PHP environment.
Mass personalization
Create personalized products of any kind at the touch of a button. The user uploads his personal data and can link it to any print template. printformer then automatically creates an individualized print template for each user from the data. Of course, the PDF/VT standard is available upon request. With the direct preview, you can even check all or only certain print documents for correctness. You can do all this in the browser and without additional installation of plugins.
Effects
Visualize embossing, laser engraving or embroidery effects in the editor. Convert images automatically to the desired color space or assign output profiles to them. In short, make it as easy as possible for your customers to individualize your product.
producers
With our Producer Module, you can distribute created print data fully automatically to production sites, printing presses or external service providers. Always keep an overview and the production status.
Updates
printformer is a state-of-the-art cloud solution. This means that you benefit at all times from the permanent development and never have to worry about updates - they are always fully automatic! 
E-commerce on different platforms - simply successful everywhere.
Start today.
Let us show you, free of charge and without any obligation, how you can improve the experience of your customers with printformer and how you can optimize your processes.